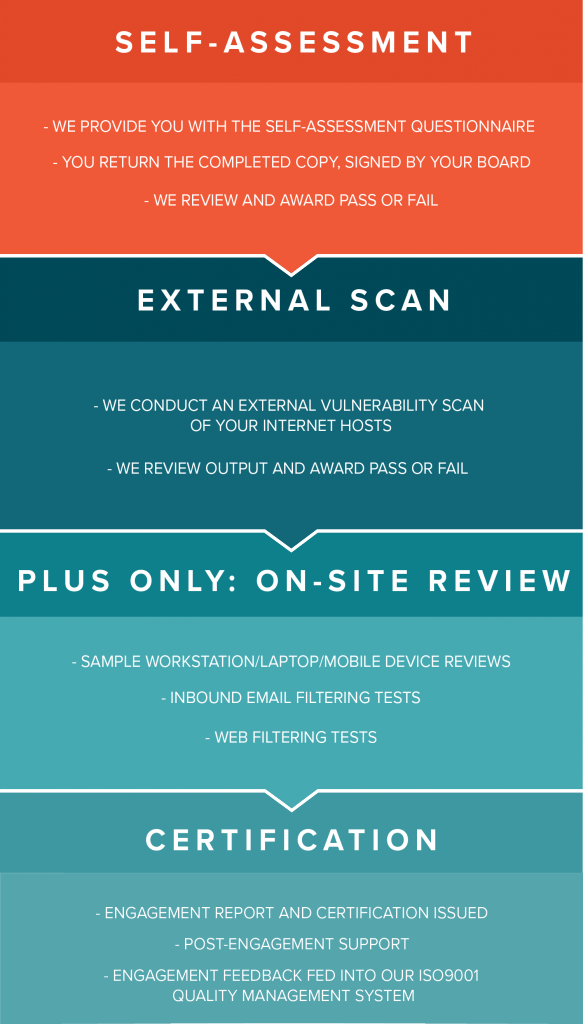 There are two levels of certification, Cyber Essentials and Cyber Essentials Plus. As the name suggests, both have common elements but Plus has additional tests. Which one you go for depends on your business requirements. Some contracts may require Plus so make sure you're not underselling yourselves!
Cyber Essentials
This level of Cyber Essentials involves two simple steps. A self-assessment and an external vulnerability scan.
We provide you with the questionnaire and you work through it detailing whether a required control is in place or not. When you are happy everything's in place, return the questionnaire to us signed by a member of your board or a company director, we review the answers against a weighted scoring matrix and issue a Pass or Fail accordingly.
Once you achieve a pass at self-assessment, 4ARMED will perform an external vulnerability scan of your Internet-facing hosts to ensure there are no basic security flaws present.
We can provide templates and guidance to support you through the process. Everything you need to get certification.
Cyber Essentials Plus
At Plus level, there is an additional on-site review of your controls. A sample of in-scope workstations, laptops and mobile devices will be assessed against the five key control areas of Cyber Essentials including patching and anti-virus protection.